WHO IS ELIGIBLE FOR MOBILE DEPOSIT?
To be eligible for Mobile Deposit, you must:
Be a current Range Bank customer with an active checking or savings account;

Have the most recent version of the Range Bank app downloaded on your device;

Be a customer in good standing.
If I am a business, can I sign up for Mobile Deposit?
Yes, Mobile Deposit is available for personal and business accounts.
MAY I ENROLL MORE THAN ONE ACCOUNT FOR MOBILE DEPOSIT?
Yes. You may enroll any checking and/or savings accounts you currently view on your online banking as long as the accounts qualify.
I SELECTED THE WRONG ACCOUNT FOR DEPOSIT. WHAT SHOULD I DO?
You can perform a funds transfer between your Range Bank deposit accounts and the funds will be available immediately.
DO I NEED A DEPOSIT SLIP TO MAKE A DEPOSIT THROUGH MOBILE DEPOSIT?
No. We will use what is called an electronic deposit slip to post the deposit to your account. You will only need to take a picture of the front and back of your check being deposited.
SHOULD I ENDORSE MY CHECK BEFORE TAKING A PICTURE?
Yes. Your signature should be on the back of the check with "For Mobile Deposit Only at Range Bank" written underneath on one line.
WHAT DO I DO WITH THE CHECK AFTER I DEPOSIT IT THROUGH MOBILE DEPOSIT?
Once a check has been credited to your account, you should retain the check for 14 days after the date of the image transmission. This provides sufficient time if there is an issue with the image quality or if the original item is required for any reason. After that 14 day period destroy it by cross-cut shredding or another commercially acceptable means of destruction to ensure they are not accidentally deposited again.
ARE THERE ANY FEES ASSOCIATED WITH USING MOBILE DEPOSIT?
No. There are no fees or charges assessed by Range Bank for you to enroll in or use the Mobile Deposit service, however the normal schedule of fees still applies. Connectivity, data usage and text messaging rates may apply. Contact your wireless provider for details.
IF I DISCOVER I'VE ENTERED AN INCORRECT AMOUNT FOR A DEPOSITED CHECK, SHOULD I TRY TO RE-DEPOSIT THE CHECK?
No. The system reads the dollar amount written on the front of the check and corrects the amount; sending an email notification back to you.
THE CHECK I DEPOSITED WAS RETURNED. CAN I RESCAN THE CHECK?
No, you cannot rescan the returned check. Your account may be assessed a returned item fee and you will receive a copy of the deposited item. It is best to get a new check to deposit to avoid any further delays.
WHAT TYPE OF CHECKS CAN I DEPOSIT WITH MOBILE DEPOSIT?
Checks made payable to you and drawn on a bank within the United States can be deposited through Mobile Deposit. Money orders and travelers checks are not able to be deposited using Mobile Deposit. Also, some business size checks may not work with Mobile Deposit.
Ready to try Mobile Deposit?
Log in to your App and click register today!
Mobile deposit is part of the Range Bank Mobile App- all you need to do is enroll! Download the app and complete the self-registration process located in the app to get started.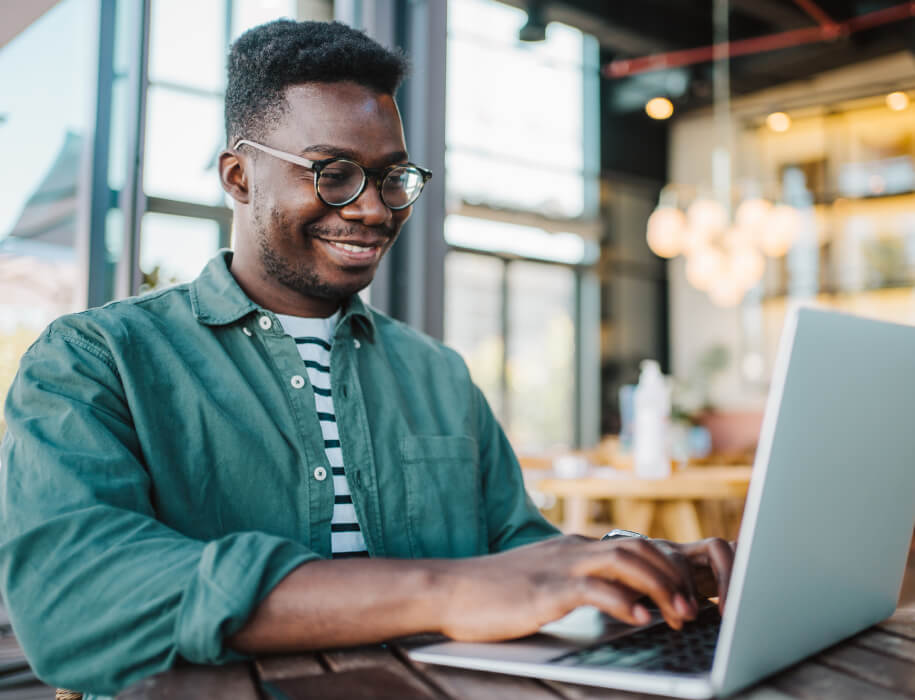 Digital banking
Convenient, secure, and accessible – digital banking made easy.
Simplify your banking with access to your funds when and where it's convenient for you.